A season not to be sneezed at
OTC
A season not to be sneezed at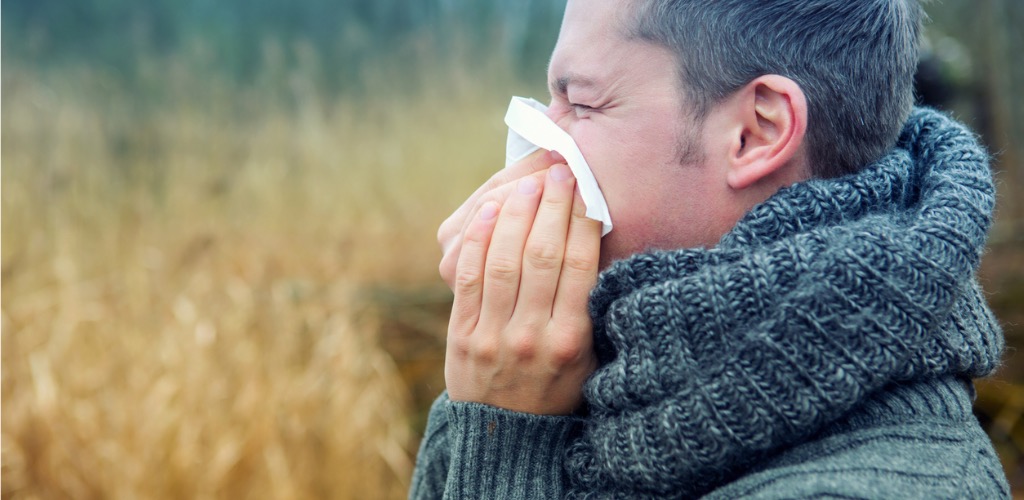 The 2018 pollen season was the most severe for more than a decade, according to the Met Office. The cold, wet March led to a delay in the start of spring. By the time spring arrived, all of nature appeared to blossom at once and consistently warm temperatures helped to release huge amounts of grass pollen into the air.
There are signs that 2019 could be yet another bumper pollen season. Unusually sunny weather in the UK in February 2019 led to symptoms of itchy eyes, a runny nose and headaches in many hay fever sufferers. The Met Office calculated high levels of pollen, and hay fever sufferers were advised to start taking their medicines early.
The National Pollen and Aerobiology Research Unit (NPARU) at the University of Worcester recommends that hay fever sufferers start taking their medicines or other treatments several weeks before the start of the pollen season, using the pollen calendar on its website to estimate when this is likely to be. Using the NPARU pollen calendar and daily pollen forecasts from the Met Office could be an effective way for pharmacy customers to predict and manage their hay fever symptoms – and for pharmacists to become a one-stop shop for hay fever sufferers.
"There is a significant association between the level of pollen exposure and symptoms, for example hospital admissions from asthma," says Dr Runa Ali, consultant allergist and respiratory physician at King Edward VII's Hospital in London. "Higher level days can help sufferers predict when to limit outdoor activities, maximise medication and prevent attacks. Currently, pollen counts are still only predictions, based on seasonal patterns, past pollen counts and approaching weather systems. But they are still the best bet until instant real-time measurement is available and broadcast."
Pollen avoidance
Allergy testing isn't usually necessary for hay fever sufferers unless they have very severe symptoms that require desensitisation treatment (immunotherapy). Dr Ali says that, for most people, checking the NPARU's pollen calendar should be enough to work out which pollen is triggering their symptoms during a certain month. According to the NPARU, most species of pollen can trigger allergic reactions, but some are more likely than others to cause hay fever symptoms. Birch tree pollen occurs first, typically from late March to mid-May and affects about 25 per cent of hay fever sufferers. About 90 per cent of hay fever sufferers are allergic to grass pollen, which lasts from mid-May until July.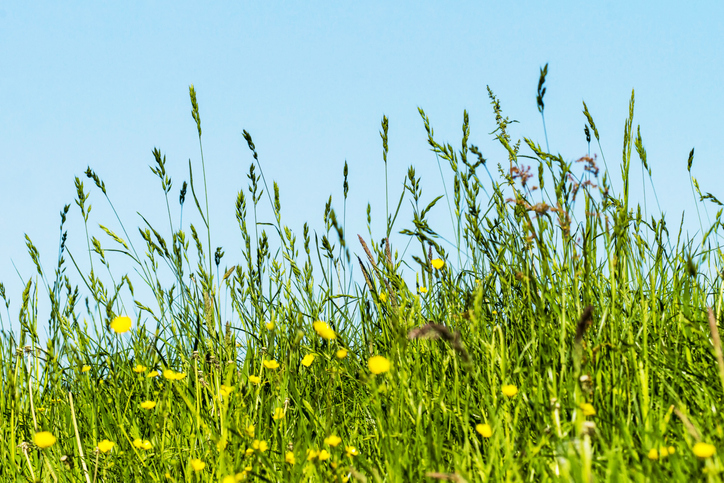 The UK's daily pollen forecast is generated by the Met Office, in collaboration with the NPARU. There are various pollen-monitoring sites across the UK, which operate from March to September each year. Each station collects pollen on a piece of sticky tape around a rotating drum. Individual pollen grains are then identified and counted, using a microscope, by an expert observer.
"The Met Office provides the most reliable data in the public domain that anyone can access," says Gareth Coady, area marketing manager, seasonal brands, GSK. "As well as website information and weather reports in the media, there are also numerous apps available that provide a pollen forecast using Met Office data. Pharmacies can provide expert advice using the website or apps, looking at when pollen is released in their local area and linking this with in-store product recommendations, window displays and promotions."
Knowing which type of pollen someone is allergic to may help them to manage their symptoms better, as hay fever medicines are more effective if they are taken in advance. However, this isn't as straightforward as it seems. In the UK, about 150 species of grass pollen can cause hay fever. Different people are affected by different species and the hay fever season will start at different times in different parts of the country. Urban areas tend to have lower pollen counts than rural areas, but pollen can become more allergenic if it combines with air pollution.
"Pharmacists can check the reports for high, medium and low pollen levels," says Allergy UK nurse advisor Holly Shaw. "This is useful to know if people want to plan activities outside during their week, so they can make informed choices. For example, going for a run outdoors or going to the gym instead if the pollen count is high. However, everyone's hay fever season will be slightly different and pharmacists will need to take into account the different regions, time of day and cities versus rural areas. Prevention is difficult with pollen allergy, although customers can follow the pollen avoidance strategies on the Allergy UK website, such as wearing wrap-around sunglasses, not drying washing outdoors and wearing a peaked cap or brimmed hat."
Approaches to management
According to Kantar Worldpanel research in April 2018, there have been some particularly severe allergy seasons in the UK in recent years. In 2017, 31 per cent of adults in the UK self-reported that they experienced hay fever in the past 12 months. In 2016, 26 per cent self-reported the condition. Among those not officially diagnosed with hay fever, about three in five use an over-the-counter treatment to manage their symptoms, according to the 2017 data. However, this is likely to have increased since CCGs were advised (in March 2018) not to routinely offer a prescription for mild to moderate hay fever symptoms.
"There's no reason for people to see their GP about hay fever unless the diagnosis is unclear," says Ms Shaw. "This may also apply if their hay fever symptoms are not being managed with pharmacy products or are impacting on their daily life, such as poor sleep or affecting their sinuses or asthma. Otherwise, they can initially try a daily non-sedating antihistamine along with avoidance strategies. The earlier they take the medicines, the more effective these will be. Some people may require eye drops as well if they are experiencing predominant eye symptoms."
According to Euromonitor's Cough, Cold And Allergy (Hay fever) Remedies In The United Kingdom report in February 2019, systemic antihistamines experienced the fastest growth in the sector in 2018, driven by the surging number of hay fever sufferers. Most people opted to self-treat by purchasing different products to find the best combination. Pharmacies remained the biggest channel for allergy treatments, but internet retailers and supermarkets showed faster growth according to Euromonitor data, due to product affordability and convenience. In addition, many UK consumers choose private label over branded products. Ms Shaw says pharmacists should inform customers if there is a generic alternative available, as this will be cheaper and encourage them to use antihistamines regularly, especially if they are having to take them for several months at a time.
Euromonitor research shows that nasal sprays remain the essential allergy treatment for most consumers. Pharmacists play an important role in advising hay fever sufferers about taking a stepped approach and using pharmacy-only nasal sprays if necessary, which gives them an edge over other outlets that can only sell GSL products. "It's important that pharmacists stress the benefits of the nasal sprays as the strongest available format sold through pharmacies," says Mr Coady. "Many of these are sold from behind the pharmacy counter, so customers will need to be directed there from the allergy aisle, using info cards and shelf markers to make the conversation as easy as possible."
Dr Ali recommends that pharmacists advise customers on how to use corticosteroid nasal sprays properly. "These need two weeks of daily use to reach their maximum effect and shouldn't be used as and when, but regularly instead," she says. "Spray with the head down, using each hand to spray the opposite nostril, aiming towards the outer wall. Pharmacy customers should be told not to sniff, otherwise the drug will be swallowed and destroyed."
According to Euromonitor, customers' pursuit of healthy living drives sales of natural and herbal allergy products. Daniel Brash, co-director of Pharmcare, with a community pharmacy in Horsforth, Leeds, suggests non-medicated options should be recommended alongside medicines, where appropriate. "Organic allergen balms act as a barrier to pollen entry into the nose, therefore causing a physical reduction in the amount of pollen that triggers the allergic response," he says. "A saline nasal rinse is useful for flushing out pollen that may be lurking in the nose and can be used at any point."
Directed marketing
The Met Office pollen forecasts are useful for hay fever sufferers and the healthcare professionals treating them, but they are also helping manufacturers target customers more effectively. This year, GSK will be starting its hay fever marketing campaign earlier than in previous years, recognising the importance of the Met Office/NPARU data.
"We have no idea what kind of hay fever season to expect this year,' says Mr Coady. "Last year was a good one for manufacturers, though obviously not for hay fever sufferers, and this year could be a long season, as we have already had two weeks of high pollen levels in February. This year, we will be responding to the pollen forecasts by directing our advertising accordingly. We have divided the UK into the same regions as the Met Office and will be pushing ads in specific regions depending on the pollen count forecast there that week. We will be reminding customers to stock up on appropriate products if the pollen count is likely to be high and that they may be able to prevent their symptoms by using the right product regularly."
Eventually, scientists hope that hay fever prediction and management could go one stage further. A dedicated research programme, PollerGEN, is using DNA sequencing and the UK plant database to identify exactly which allergenic species of grass pollen are most prevalent at any given time, in any given place. According to the NPARU, this could lead to more detailed local warnings and even changes to local environments by replacing highly allergenic grass species on sports fields, parks and neighbourhoods.
Views from the P3pharmacy category panel

Lila Thakerer

Shaftesbury Pharmacy, Harrow

Melissa Liew

Ellacombe Pharmacy, South Gloucestershire



Yasmeen Asfar

Well Pharmacy, Hartlepool

"Once the flu season ends around February, we move straight on to hay fever until about August. It's a very busy season for us. Customers ask lots of questions about antihistamines. Is it safe to drive? Will it make them drowsy? How many doses can they take? What are the side effects?

Popular brands are Zirtek and Piritese, but increasingly customers are opting for generics because these are much cheaper. Nasal sprays and eye drops are popular, too. Customers are tending to purchase OTC remedies for hay fever now instead of going to see their GP first. This is because often the OTC products are much cheaper than a prescription. They will come to us for advice as well as remedies."

"Hay fever is the most common allergy in the UK, so we're always looking at ways to offer our customers a better service and more choices. Having multiple remedies in different formulations will help your customers to get the right remedy, especially first-time sufferers who often have to use trial and error to find a remedy that works for them. Offering good-quality advice about hay fever has always been appreciated.

Most of our customers prefer advice tailored to their individual symptoms and their preferred route of administration. Price is another important factor when deciding what to stock. As well as the popular brands, we stock value alternatives, which we find provide repeat business."

"As spring approaches, hay fever is a key category in pharmacy. Most queries are based on the typical symptoms: itchy/watery eyes, runny nose, coughing and sneezing. It is vital to stock a variety of products. Our most popular brands have been Piriton, Clarityn, Benadryl and Beconase, but with so many generics available, many customers go for a cheaper alternative.

I have seen cases of hay fever starting earlier in the year, which means products and promotions need to be on display weeks before the 'traditional' time. Stock products to treat all symptoms and always ensure staff are trained to give advice with each sale. Displays should be placed in areas that are clear to customers."